How can Ukrainian citizens open an account with Satchel.eu?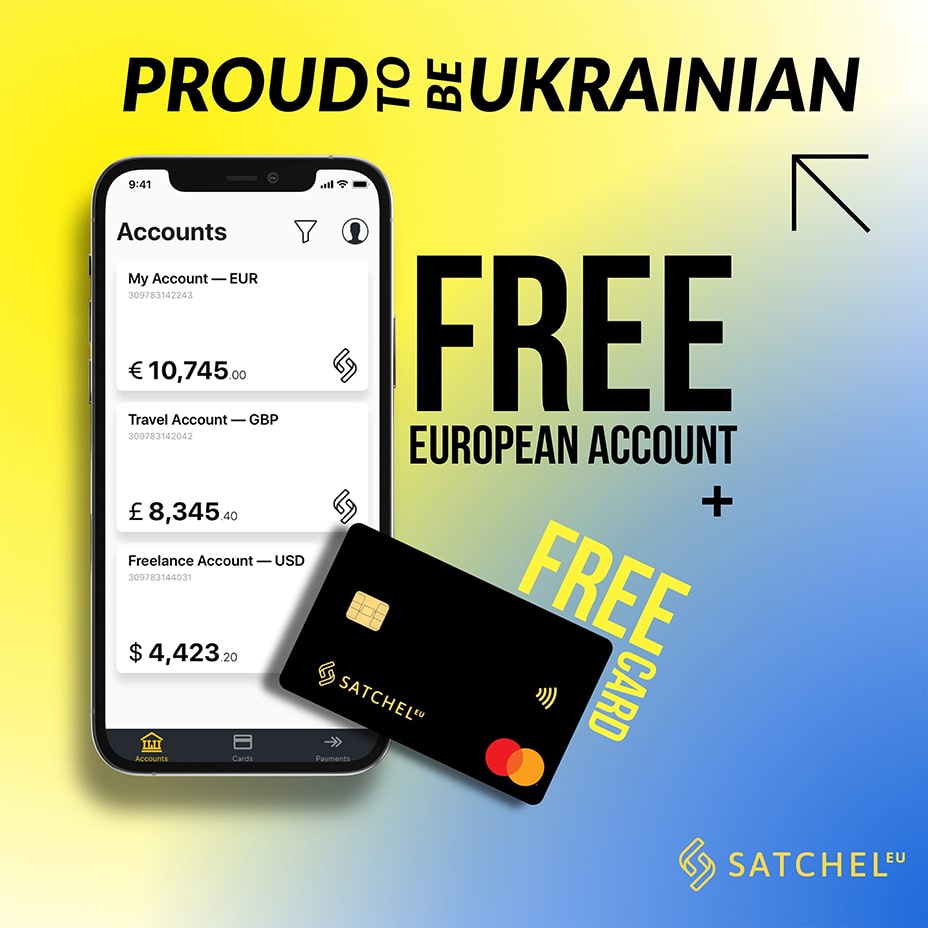 Satchel.eu is a leading European EMI from Lithuania with headquarters in Vilnius. Satchel has been providing digital money management solutions to customers worldwide since 2018, enabling them to open a European current account with a prepaid card and an IBAN for international money transfers. Our solutions are designed to give users the flexibility, security and convenience of financial transactions they are looking for.
How Can Ukrainian Citizens Open an Account with Satchel.eu?
Applying for a Satchel.eu account is easy and can be done remotely. To start the application process, go to the "Proud to be Ukrainian" free tariff page and click "Open Account".
Fill out the online form answering all the questions. You will only need two documents that can verify your identity: a scan of your international passport and a Proof of address – a document confirming your registration address. The latter can be a bank statement or a utility bill, where your registration address is listed. A scan of this document will have to be uploaded to the Home address field.
As soon as you submit your form, our team will start the review process. In some cases, we may ask you to provide additional information to complete the procedure in accordance with regulatory requirements.
After submitting your application, you will need to set a password that you will use to log in to your account: you will receive an email from Satchel.eu with a link for password configuration.
Upon setting the password, you will need to download the Satchel app where you can perform the identity verification procedure through the Onfido * solution. You will only need the front camera of your smartphone along with your international passport to complete the procedure.
Once the verification is complete, your account will be activated.
* Onfido is an identity verification tool, powered by AI.
How Do I Order a Physical or Virtual Satchel Card?
After opening an account, you can order a prepaid physical or virtual Mastercard card, which can be used worldwide to make payments, withdraw money, and transfer funds at favorable rates. To do this, you will need to fill out the form on our website or navigate to this form from the personal account of the desktop version (in the app, this feature is not yet available).
All you will need to fill out the form is a scan of your international passport, as well as a document confirming your registration address. The card is usually issued on the day when the application is submitted, but sometimes due to the large number of applications, the process can take up to two days. Physical card delivery in the EU is carried out by both regular mail and Express DHL, while in Ukraine cards are sent only by regular mail. A great alternative is also a virtual card, for which there is no card issuance fee, and which is a proven reliable tool for online shopping.
Is It Possible to Make a Transfer to Your Satchel.eu Account from Ukraine in UAH?
Unfortunately, it is currently impossible to make a transfer to a Satchel account from Ukraine, according to the resolution of the NBU Board of February 24, 2022, № 18 "On the operation of the banking system during martial law."
What Services Are Available to Ukrainian Satchel.eu Users in the EU?
Quick online account opening
We believe that your time is a valuable resource, so you can open an account at satchel.eu from anywhere in the world, directly from your smartphone or any other device.
Unique European IBAN
A personal account with a unique European IBAN is an easy way to receive salary and any other payments, pay utility bills, and pay for goods and services.
International SEPA and SWIFT transfers
SEPA allows you to make international payments in Europe as quickly and easily as transfers within a single EU member state. Currently, 36 EU and EFTA countries are participants in the SEPA project. The SWIFT network brings together more than 11,000 financial institutions worldwide and processes an average of more than 28 million international transfers daily.
Virtual and physical Mastercard cards for online and in-store purchases
You can connect up to 5 cards to your account, which will allow you to pay easily and quickly for goods and services in Europe and around the world. The card is issued free of charge.
Expert customer support in Ukrainian
Our professional customer support agents are always ready to answer your questions and solve your problems without language barriers.
Satchel's Statement on the War in Ukraine
The events of February 24, 2022 changed the life of the Satchel team, as some of our colleagues live and work in different parts of Ukraine. In connection with the Russian military invasion of Ukraine, we organized their immediate evacuation to our headquarters in Vilnius. Our brave girls left their families, friends and daily lives behind to help Satchel provide uninterrupted service and support the Ukrainian people during this challenging time.
To date, more than two million Ukrainians have crossed the borders of neighboring European countries to avoid war. In this regard, our company has decided to launch an initiative that will simplify the process of opening accounts and obtaining prepaid cards for all citizens of Ukraine. This will be especially important for those who have left the country and need a European account to access and use their money in the country of their temporary evacuation.