Ultimate cloud-deployed platform
Manage transactions, fees, accounts and users, while maintaining top-level security.
Scale your business
Connectivity with major systems
SEPA CentroLINK, SWIFT, Target2, Faster Payments
Service Level Agreement
With 99.99% operability
Onboarding systems
3rd party KYC/AML providers and biometrics
Gateways
Visa, MasterCard and UnionPay & 100+ Alternative Payment Methods
Advanced compliance features
Marketplace with a variety of services
300+
established APIs
PSD2 compliant
Desktop and mobile interface
A seamless online & mobile client office experience, fully secure and convenient.
Account management
Intuitive mobile app iOS & Android
Incoming and outgoing payments
Currency exchange
Messaging system
Intelligent security features
A back office for complete control
Monitor and administer all processes on the platform, ensuring compliance with policies, regulations, and terms of use.
Internal messaging & ticketing system
Card management system
Onboarding module
AML & Compliance module
CRM module
Payment module
Statistics & Reporting
System administration
Tariffs & Commissions
Compliance you can rely on
We have integrated AML & KYC procedures into our platform, connecting with the leading European and American third-party providers.
Fast and secure onboarding
Risk monitoring
Advanced reporting system
SEPA gateway
Get a direct access to SEPA – one of the most efficient payments execution and management systems out there.
No intermediaries
SEPA Credit Transfer and SEPA Instant
Unique European IBANs issuance
Lower fees
Always get paid on time with e-Invoicing
Create branded invoices in minutes
Accept instant payments by card or bank transfer
Send invoices via SMS, email or a custom link
Manage invoices and payment status in the back-office
Enjoy simplified accounting with a unique IBAN for each customer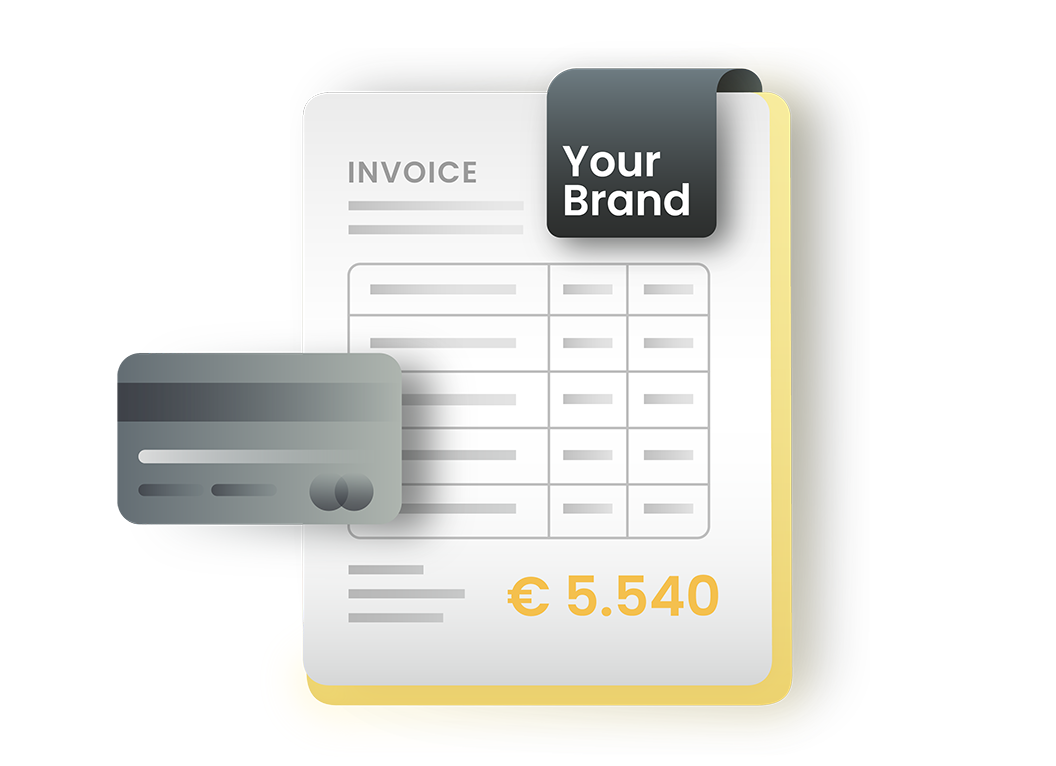 FAQ
Software as a Service (SaaS) is a business model that allows a service provider to host its application on its servers and make it available to the consumers directly from the cloud. In other words, a user is able to access a provider's software or app, stored on the cloud in different data centers, via the Internet through any connected device. The only difference between traditional software and SaaS is that the latter isn't downloadable and can't be installed on a user device, which makes it one of the leading cloud computing applications. For more information, please read our dedicated blog post.
More and more large enterprises and SMBs are relying on the SaaS model to boost sales and enable marketing strategies. If you are wondering what makes software as a service products so attractive for customers, the answer is simple: they are feature-rich and easy-to-scale. By integrating SaaS solutions, organizations are able to save time and financial resources they would otherwise need to sacrifice to build robust & tailor-made functionality.
SaaS solutions are web-based and accessed through a web browser with no installation required, while conventional application software needs to be installed on a device in order for the user to access it. The most common examples of a SaaS platform are Salesforce, Atlassian, HubSpot, Slack, and Shopify.
Get in touch with Satchel
Submit the form and we will reach you on the next business day.
Get in touch with Satchel
Submit the form and we will reach you on the next business day.