Redefining Banking: Exploring Neobanks and Their Growing Influence in 2023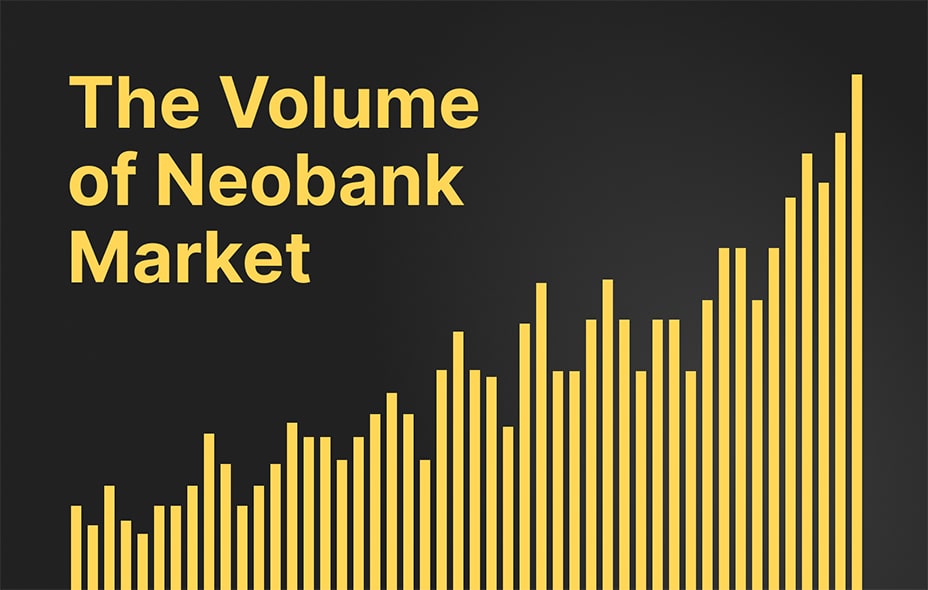 When we think of traditional banking, it often conjures images of imposing brick-and-mortar institutions, occasional ATM glitches, and reams of paperwork. However, a fresh wave of fintech startups, distinct from traditional banks, has emerged on the scene. These startups, known as neobanks, are challenging the old-school stereotypes by offering digital-first, and in many cases, exclusively digital, banking platforms. They promise customers seamless online experiences and the allure of low or even no fees.
In this article, we will explore the nature of neobanks and what differentiates them from traditional online banks, and take a closer look at the global neobank market's volume to gain a comprehensive understanding of its emerging trends.
What is a Neobank? Definition and Types
Neobanks, often termed as "challenger banks," represent fintech companies that leverage apps, software, and various technological solutions to streamline mobile and online banking experiences. Typically, these fintech firms specialize in specific financial products such as checking and savings accounts. Moreover, they are known for their agility and transparency, distinguishing them from their larger, traditional banking counterparts. Interestingly, many of these neobanks collaborate with established financial institutions to underwrite their financial offerings. Neobanks have gained prominence due to their customer-centric approach, user-friendly interfaces, and the convenience they offer in managing finances for individuals and businesses of diverse backgrounds.
Neobanks vs Online Banks
Neobanks represent primarily online-based banking platforms that operate without physical branches. However, it's important to differentiate them from traditional online banks. Typically, online banks possess a banking license and offer a more extensive array of services to their clients, including loan products. For instance, N26 and Revolut fall into the category of an online bank, as both of them have full banking licences, as opposed to Wise and Satchel which operate under an electronic money institution (EMI) license.
As a response to the growing popularity of neobank platforms, established financial institutions have introduced or enhanced their own banking products or divisions to compete with the emerging neobank sector.
Diverse User Base
Neobanks cater to a diverse user base, including individuals and small and medium-sized enterprises (SMEs). This broad appeal is due to their ability to offer tailored financial solutions to meet the needs of various customer segments. Whether you're an individual looking for a convenient way to manage your finances or a business seeking efficient payroll programs and international money transfers, neobanks have a solution for you.
Neobank Services
Neobanks provide an array of financial services that mirror those of traditional banks. These services include personal and corporate account openings, payroll programs, local and international money transfers, and the issuance of payment cards for everyday payments and e-commerce transactions.
One notable example of a neobank is Satchel, one of Europe's fastest-growing digital banking providers based in Lithuania, offering a wide range of financial solutions to its private and corporate customers. Satchel's services are accessible through a user-friendly mobile app and web client office, making banking more convenient and accessible than ever before, while their professional customer support is always there to help out with any hurdles.
Let's Talk Security
But are neobanks safe enough? The answer is a resounding yes. Neobanks are licensed and regulated by the same authorities that oversee traditional banks, ensuring they adhere to strict financial regulations and security protocols. Moreover, in some cases, EMIs offer even greater protection to customers, such as full compensation for deposits kept in segregated accounts.
The Volume of Neobank Market
Now, let's turn our attention to the global neobank market and its impressive growth trajectory. The neobanking sector has been expanding rapidly in recent years, disrupting traditional banking models and gaining market share.
According to the Neobanking Global Market Report 2023, the worldwide neobanking industry witnessed substantial growth, increasing from a value of $79.1 billion in 2022 to $118.51 billion in 2023, marking a compound annual growth rate (CAGR) of 49.8%. Projections indicate that the market is poised for continued expansion, with expectations of reaching $556.66 billion by 2027, maintaining a CAGR of 47.2%. The main factors contributing to such astonishing growth rates are the convenience offered by neobanks and their ability to adapt to evolving customer needs.
Here, we've compiled essential insights regarding the growth of the neobanking market from sources such as Statista and GlobeNewswire:
Key Growth Drivers: The neobanking market's robust expansion is primarily driven by neobanks' capacity to provide a swifter and more transparent banking model, coupled with their cost-effective operational structure.
Business Account Segment: The increasing adoption of mobile and digital banking for payments by SMEs and larger corporations is anticipated to fuel growth in the business account segment up until 2030.
Regional Dominance – Europe: Europe emerged as the dominant market player in 2021 and is poised to maintain its position throughout the current decade, owing to the entry of numerous new vendors in the regional market.
Transaction Value Projections: The transaction value within the neobanking market is forecasted to reach a significant sum of US$4.74 trillion in 2023.
Average Transaction Value per User: On average, each user's transaction value in the neobanking market is estimated to be US$19.76 thousand in 2023.
User Projections: The Neobanking market is projected to encompass approximately 376.90 million users by 2027.
User Penetration: User penetration is anticipated to be 3.3% in 2023, with expectations of an increase to 4.7% by 2027.
Bottom Line
Neobanks have emerged as a response to the changing landscape of finance, where digital technologies have become increasingly pervasive. They've made it their mission to tackle the various pain points and inefficiencies that were prevalent in the financial services market of the past. This includes issues such as cumbersome branch-based banking, high fees, and limited access to innovative financial products.
Neobanks have already demonstrated resilience and an ability to adapt to evolving customer needs. Their agility and commitment to leveraging cutting-edge technology have allowed them to continually refine their services and offerings.
Furthermore, the enduring presence of neobanks signifies a significant shift in the financial industry's mindset. For years, the banking sector had been characterized by a lack of diversity and innovation, with a focus on traditional banking practices. Neobanks have injected fresh energy into this sector, promoting diversity not only in terms of services but also by embracing a customer-centric approach that prioritizes accessibility, transparency, and affordability.
The ongoing success and expansion of neobanks are emblematic of a dynamic and evolving financial landscape. These institutions are reshaping the industry by responding to the demands of today's tech-savvy consumers and offering a more inclusive and customer-friendly alternative to traditional banking. As the digital era continues to unfold, the influence and significance of neobanks are expected to grow, driving further positive change in the financial services sector.