Leading Fintech Hubs: Top 5 Centers in Europe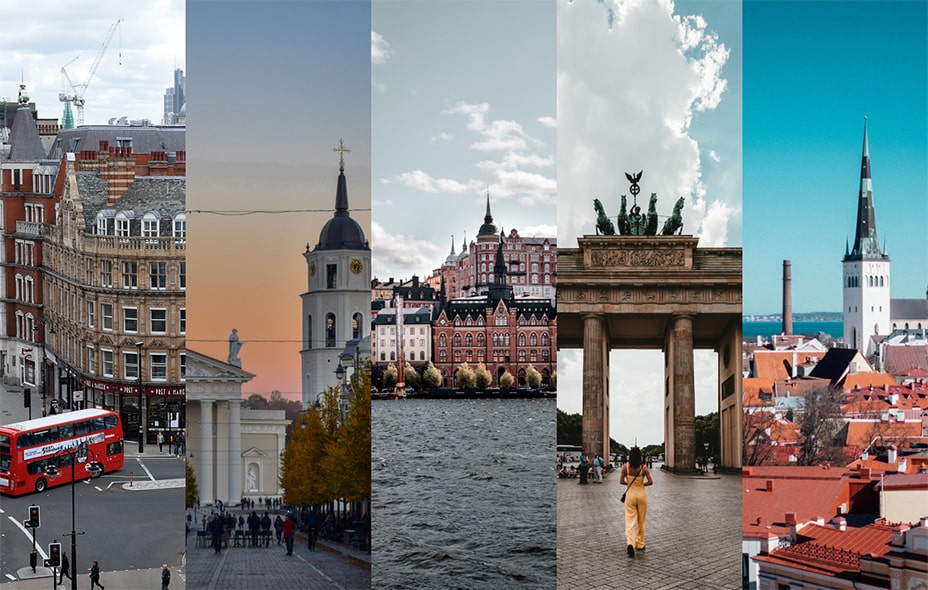 The Top 5 Fintech Cities in Europe
Europe has historically been a major global financial hub, drawing capital from around the world. However, in contrast to the traditional financial landscape, the driving force behind Europe's FinTech sector extends beyond the traditional financial centers of old Europe, with the Baltic and Scandinavian capitals playing a significant role.
London
London has been Europe's leading tech hub for quite some time. Although Brexit created some waves, investors' interest in the city hasn't decreased. In 2023, London was named the third-best city for startups in the Best Cities for Startups ranking. The UK highlights its strong access to early-stage funding opportunities ranking first in the Global Startup Ecosystem Index 2023.
The UK boasts world-class talent, extensive expertise across the nation, forward-thinking regulatory approach, easy access to capital, and a close connection to an innovative financial services sector. This exceptional environment has positioned the UK at the forefront of fintech innovation, spanning peer-to-peer lending, challenger banks, cybersecurity, insuretech, regtech, AI, paytech, and blockchain startups.
As of today, half of the top 10 European fintech deals are happening in London. Thanks to its historical status as a global financial hub, London serves as a gateway to global investments. Notably, private equity and venture capital investments in fintech in the UK outpace those in the US, Germany, and France, surpassing £14 billion.
Furthermore, London saw the birth of seven more unicorns in 2022, bringing the total number of tech companies in the city to over 18,000 in 2023. London is a prominent player in the fintech sector, holding a 10% global market share, and this share is expected to grow even further in 2023-2025.
The UK also stands out in attracting top talent, with 42% of overseas workers in UK fintech, and London alone hosting over 350,000 software developers—more than any other European city. This diverse talent pool fuels the sector's growth.
Vilnius
Vilnius, ranking second only to London in the number of EMIs (Electronic Money Institutions), has unmistakably established itself as the EU's largest fintech hub by the number of licenses issued. The Lithuanian capital's growth trend continues unabated. According to the Global Startup Ecosystem Index 2023, Vilnius has climbed an impressive seven positions. The dynamics are truly remarkable, with 55 EMIs in 2014 compared to 263 in 2022.
The city's ascent began in earnest after the Brexit decision, as Lithuania swiftly adapted its EMI legislation to harness the opportunities presented by the changing landscape. The country ranks 8th globally for its low ML/TF risk jurisdiction and holds the 3rd position among OECD countries for corporate tax competitiveness. A key driver of Vilnius's appeal is its unparalleled access to the vast European Union market of over 500 million customers, bolstered by Lithuania's robust digital infrastructure and the regulator's fintech-friendly approach. Furthermore, the relatively low cost of living and the presence of skilled software developers in Lithuania contribute positively to the nation's burgeoning fintech ecosystem.
Lithuania has made fintech a focal point of its economic strategy, fostering continuous innovation and easing regulatory constraints, exemplified by the introduction of a blockchain sandbox. Major international players have taken notice, with UK-based fintech startup Revolut launching a licensed bank in Lithuania in 2020. In 2022, Lithuania celebrated its second unicorn – Nord Security, a Vilnius-based cybersecurity firm that secured $100 million in funding, attaining a valuation of $1.6 billion.
Invest Lithuania reports a 19% year-over-year growth in the Fintech workforce in 2022, reaching a total of 7,000 employees.
Stockholm
Stockholm, a city where innovation and sustainability go hand in hand, is rapidly rising as a prominent player in the European fintech arena, cultivating a thriving ecosystem driven by innovation and a tech-savvy population. One of the key drivers of Stockholm's success in the fintech sector is its strong focus on digital infrastructure. Sweden has invested heavily in creating a robust digital framework that supports a wide range of financial technology initiatives, which allowed Stockholm-based fintech companies to flourish and develop cutting-edge solutions.
Stockholm maintains a dominant position in driving the flow of deals within the Nordic region. Local companies are responsible for more than 90% of all fintech investment transactions in Sweden and approximately 65% of the total investment value in the broader Nordics. In 2021, Sweden's fintech ecosystem was ranked seventh in the world by Findexable. Furthermore, Stockholm secured the 14th position among the world's most favorable cities for fintech growth.
Stockholm stands out as one of Europe's bustling hubs for digital transactions. Remarkably, the country already conducts a staggering 99% of its commercial transactions electronically, positioning Sweden firmly on the path to becoming a cashless society.
Additionally, Stockholm promotes a collaborative atmosphere that encourages startups and established financial institutions to work together. This synergy between emerging fintech companies and traditional financial players has led to the development of innovative products and services that benefit both consumers and businesses.
The city's fintech landscape spans a broad spectrum of specialties, including digital banking, payment solutions, blockchain, and insurtech. Stockholm has produced notable success stories, with companies like Kla rna, iZettle (now part of PayPal), and Tink gaining international recognition and attracting substantial investments.
Sweden's educational institutions also play a pivotal role in nurturing talent for the fintech sector. The city is home to a wealth of universities and research centers that provide a steady stream of skilled professionals in areas such as software development, data analytics, and cybersecurity.
Berlin
Berlin, the dynamic capital of Germany, has firmly established itself as a major player in Europe's flourishing fintech landscape. Renowned for its vibrant startup culture and a deep pool of tech talent, Berlin has become a magnet for innovative financial technology companies. The city's rise to prominence as a fintech hub can be attributed to a convergence of several critical factors.
Berlin continues to serve as the primary hub for fintech seed deals in Germany, contributing to 57% of such transactions.
As of 2023, the Berlin startup ecosystem boasts over 5,800 thriving companies, experiencing an annual growth rate of 15%. During the first quarter of 2023, German startups successfully secured a collective funding of $293 million. Notably, Berlin emerged as the frontrunner among German cities with a 41.6% share of these funding deals.
One of Berlin's key strengths lies in its diverse and inclusive ecosystem. The city has cultivated an atmosphere that welcomes entrepreneurs, investors, and professionals from around the world. This diversity has led to cross-pollination of ideas and expertise, fostering a spirit of collaboration that has fueled the growth of the fintech sector.
Moreover, Berlin benefits from robust government support for the tech industry. Germany's commitment to innovation is reflected in policies and initiatives aimed at bolstering the startup ecosystem. This includes favorable regulatory frameworks and funding opportunities that make it easier for fintech startups to thrive.
Berlin's fintech scene is characterized by a wide range of companies spanning various subsectors, including online banking, payment solutions, blockchain, and insurtech. Prominent players like N26, Solarisbank, and Raisin have gained international recognition and success. These companies have not only reshaped the financial landscape but have also attracted significant investments, further solidifying Berlin's status as a fintech powerhouse.
Additionally, Berlin boasts an abundance of highly skilled professionals in fields such as software development, data analytics, and cybersecurity. The city's educational institutions and research centers contribute to this talent pool, ensuring that fintech companies have access to the expertise needed to drive innovation.
Tallinn
Tallinn, the charming capital of Estonia, has emerged as a notable and forward-thinking player in Europe's fintech landscape. Estonia, as a nation, has made significant strides in nurturing its burgeoning fintech ecosystem, with Tallinn at the forefront of this transformation.
One of Estonia's standout initiatives is the Estonian E-Residency program, a groundbreaking initiative launched by the government. This program allows individuals from around the world to become virtual residents of Estonia, granting them access to the country's digital infrastructure and enabling them to establish and run businesses with ease. Additionally, the Work in Estonia program focuses on attracting IT specialists and professionals in natural and exact sciences, leading to a doubling of Estonia's international talent pool in the past five years.
Tallinn's allure as a fintech hub is further underscored by Estonia ranking as #8 in Europe according to the Global Startup Ecosystem Index 2023. This recognition highlights Tallinn's appeal for startups and its conducive environment for innovation.
The Estonian Startup database currently houses 1,444 startups, including 98 new ones established in 2022 and 2023, achieving a turnover of €2.1 billion in 2022. These numbers exemplify the city's thriving startup ecosystem, with a particular emphasis on the fintech sector, actively demonstrating its attractiveness to both entrepreneurs and investors seeking opportunities in financial technology.
Estonia's robust digital infrastructure, coupled with its government's fintech-friendly vision, has created an environment conducive to innovation. Tallinn's fintech landscape includes companies specializing in digital banking, blockchain technology, and payment solutions, among others. As these companies continue to innovate and expand, Tallinn is well-positioned to further enhance its reputation as a significant player in the European fintech scene.