Top 15 RegTech Leaders in Europe: 2023's Champions of Compliance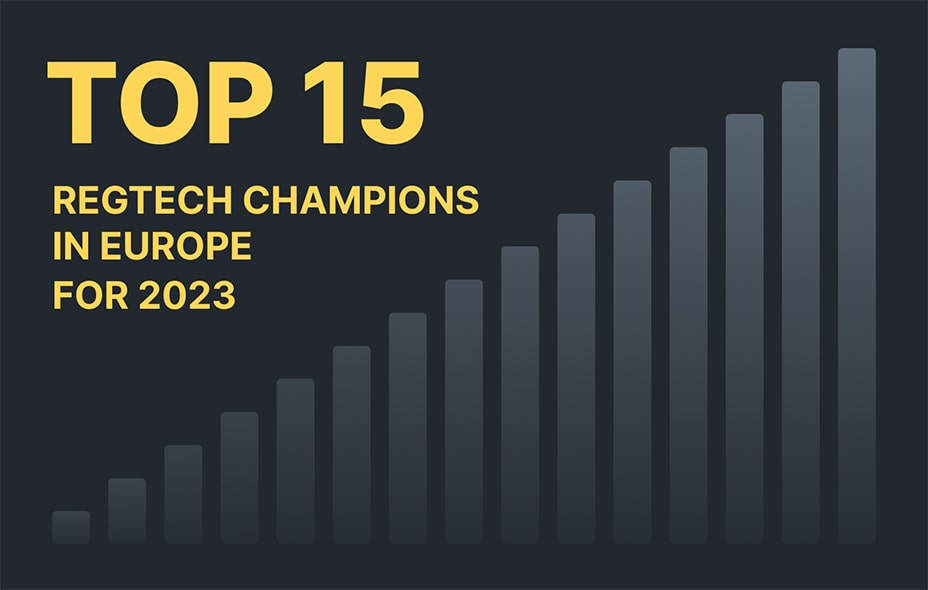 Top 15 RegTech Champions in Europe for 2023
As the regulatory landscape continues to evolve, RegTech solutions emerge as the vanguards of change within the European Union. In the short span since its inception, the RegTech industry has witnessed unprecedented growth and popularity, with new features enhancing regulatory compliance every passing day.
What does RegTech Offer to Companies?
RegTech solutions are at the forefront of revolutionizing how companies approach regulatory compliance. Here are some of the the fundamental functions that RegTech solutions offer to financial institutions (FIs):
Data Management Solutions: Elevating data organization and accessibility, RegTech solutions empower companies with streamlined compliance processes.
KYC and AML Solutions: Addressing Know Your Customer (KYC) and Anti-Money Laundering (AML) protocols, these solutions bolster security and integrity in financial operations.
Tax Management Solutions: RegTech solutions navigate intricate tax landscapes, ensuring accurate and efficient tax management.
Risk Management Solutions: By analyzing patterns and managing large data volumes, RegTech solutions automate risk identification and mitigation.
Records Management Solutions: These solutions streamline records management, ensuring transparency and accountability.
Trade Monitoring Solutions: Monitoring trade activities in real-time, RegTech solutions promote compliance adherence.
Reporting Solutions: Automating reporting procedures, RegTech solutions facilitate timely communication with regulatory authorities.
Portfolio Risk Management Solutions: RegTech empowers companies to manage portfolio risks effectively through data analytics.
Quantitative Analysis Solutions: Leveraging advanced algorithms, RegTech solutions optimize quantitative analysis for informed decision-making.
Regulation-Specific Solutions: Tailored solutions address specific regulations, ensuring meticulous compliance.
Regulatory Change Management Solutions: RegTech solutions track and adapt to regulatory changes, ensuring perpetual alignment.
Top 15 RegTech Companies in Europe for 2023
By merging the pinnacle of machine-learning technology, RegTech not only offers data on online money laundering activities but also alleviates the burden on Risk and Compliance teams. With Europe's regulatory landscape evolving at an accelerated pace, RegTech emerges as a beacon of compliance in an era where precision is paramount.
Embracing 2023, Europe stands as a crucible of RegTech innovation. The following is a snapshot of the standout enterprises shaping the landscape: Napier (UK), Alyne (Germany), CleverSoft (Benelux & Germany), Blinking (Serbia), Corlytics (UK & Ireland), ComplyAdvantage (Romania), DataGuard (Germany), CyNation (UK & Netherlands), ElectronicId (Spain), Dathena (Switzerland & France), Fenergo (Ireland), FacePhi (Spain), Governance (Luxembourg & Netherlands), 4STOP (Germany), IDpal (Ireland).
These companies embody the fusion of cutting-edge technology and compliance, reshaping the landscape of regulatory conformity through the integration of AI, analytics, real-time monitoring, and an array of specialized domains including cybersecurity, risk management, onboarding processes, monitoring and reporting systems, compliance management, information risk, onboarding verification, facial recognition, and mobile biometrics. Napier, the world's first end-to-end intelligent compliance platform, is seamlessly integrated at Satchel.eu.
Key Areas of RegTech Application
RegTech's impact spans across critical domains:
Cybersecurity: Leveraging advanced technology, RegTech thwarts data breaches and online fraud through encryption and end-to-end anonymity.
Big Data Analysis: RegTech harnesses Big Data to analyze consumer identification, a cornerstone of its solutions.
Identity Management: Utilizing AI and Business Intelligence, RegTech companies elevate identity management protocols.
Risk Management: Automated risk identification and management are RegTech's forte, analyzing large data volumes for patterns.
Compliance Management: RegTech automates compliance monitoring, upholding regulations across diverse laws and aspects.
Macroprudential Policy Adherence: RegTech ensures adherence to macroprudential policies, fostering the stability of the financial system.
Regulatory Updates: RegTech excels in identifying and interpreting regulatory changes, and assessing their impact.
Advanced Analysis and Reporting: RegTech facilitates advanced data analysis, generating communications for regulatory bodies.