Baltic Startups Ondato and Satchel Partner to Drive Innovation in Fintech and Compliance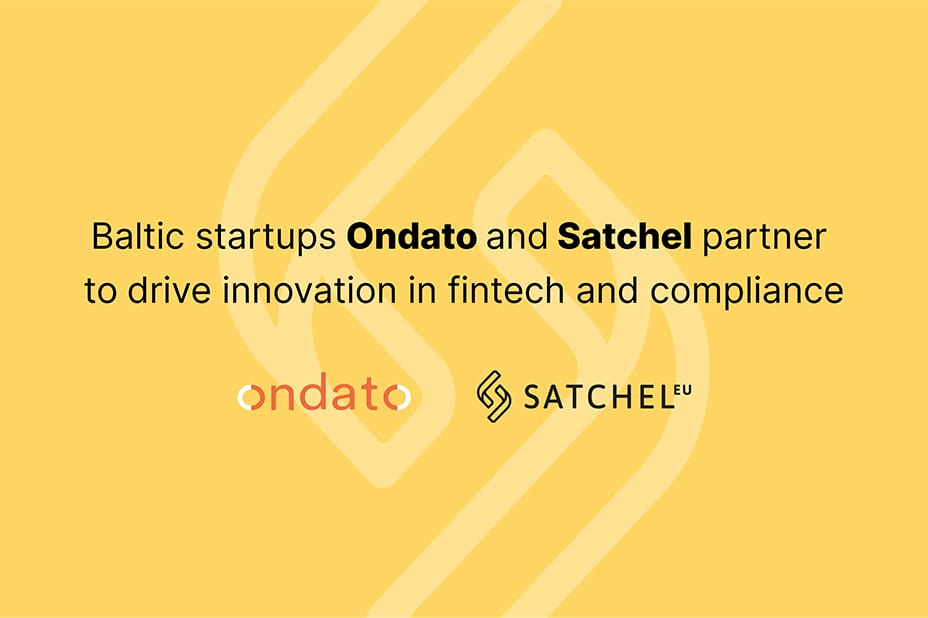 Ondato, one of the leading tech companies that streamlines KYC and AML-related processes, and Satchel.eu, a European electronic money institution (EMI) that offers business- and consumer-level accounts, cards, and other financial services, today announce a new partnership to strengthen Satchel's KYC, AML, and CFT* compliance procedures. The partnership will also provide Ondato with a trusted environment for the rapid development of new solutions. By bringing together two of Lithuania's most progressive fintech companies, the partnership aims to drive new innovations throughout the European fintech ecosystem.
Sergiy Barybin, CEO at Satchel.eu, says: "Collaborations and partnerships drive the fintech industry forward. By combining the strengths of Satchel and Ondato we will raise operational standards and ensure strong compliance to combat the ever-growing challenge of fraud and scams. Ondato's end-to-end compliance solution meets all EU requirements and enables Satchel to grow faster, as well as providing the full range of solutions necessary to make our internal processes more cost-efficient and effective."
Liudas Kanapienis, CEO and co-founder of Ondato, comments: "Ondato's solution turns compliance — often considered a brake on business — into a business benefit, with greater agility, customer protection and operational efficiency. Satchel is acknowledged as one of the world's centers of innovation in financial services and by partnering with Ondato its customer documents and biometrics will be verified using the most advanced recognition technologies, and checked against the relevant national and international registries and databases. Ondato gives Satchel complete confidence it is operating in full compliance with personal data protection laws, KYC, AML, CFT and online security regulations."
The partnership will embed Ondato's automated, end-to-end identity verification services across Satchel's banking platform, helping the EMI to turn compliance into a business benefit. Because Ondato's platform complies with all EU, KYC-related regulatory compliance standards, Satchel.eu will be able to scale its services easily and rapidly, in alignment with its fast customer expansion. In addition, Satchel.eu gains improved operational efficiency and an additional layer of fraud protection to its business and retail customers. Ondato, on its side, gains privileged access to one of Europe's fastest-growing fintech companies, where it can co-create and perfect innovative technologies and services. By integrating Ondato, Satchel.eu expects to enhance workflows at every user touchpoint of the KYC and compliance journey.