Best Payment Methods for Freelancers: How to Get Paid and Withdraw Money?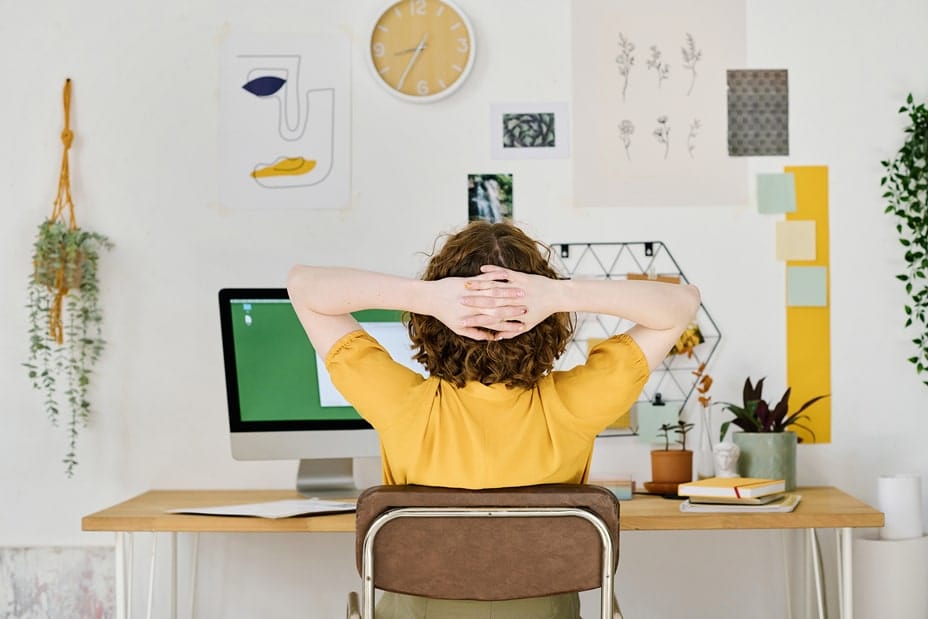 Every year the number of freelancers and freelance payment methods increase. How to get paid as a freelancer is the main question as there are more than a dozen different ways to receive funds for freelance work. The main concerns while choosing the best payment platform for freelancers are security, transaction fees, processing time, possibility to accept transfers internationally, supported currencies and convenience. What is the best payment platform for freelancers? How to pay freelancers? Let's review the pros and cons of each payment option and find the best ones.
Checks
Good old checks are quite an easy way to receive money from clients. No commission for depositing a check into a bank account is the biggest advantage of this offline money transfer option. But this old-school method has a big disadvantage, namely the time delay: you need to wait to receive a check by mail to clear in your bank account. If you want to take a walk in the fresh air to cash it in the bank, why not?
If time matters, of course, online methods of receiving your payment or salary are the best solutions. A check can also be lost, stolen or damaged. So, what are the best payment options for freelancers?
Satchel.eu
Satchel is a reliable electronic money institution for simple and fully digital money management with a special proposal for freelancers. It is simple and fast: just 2 documents are required to open an account remotely from your smartphone or desktop device. Satchel is more than just an app or a service, it is a seamless and efficient fintech solution with a smart interface. A freelancer can fully manage all transactions on the go, view transaction history, etc. You get a unique European IBAN that identifies your Satchel account in the international banking system. Low fees are an absolute advantage here. SEPA incoming transfers are free, while outgoing are 3 EUR. SWIFT incoming payment is 0.2% (min 10 EUR, max 100 EUR). You will be charged 0.5% (min 15 EUR, max 350 EUR) for SWIFT outgoing transfer. International transfers are possible and easy to perform. You won't find any hidden fees.
Freelancers can choose either Virtual or physical Mastercard options. With a plastic card you can withdraw cash across the globe. Perhaps one of the biggest benefits is reliability and advanced security, powered by the cloud solution, two-factor authentication, 3D Secure. And the safety of your funds is guaranteed by the Bank of Lithuania.
Satchel has human customer support. The option that refers to premium is included in Satchel's freelancer package. Satchel is one of the best freelancer payment options.
PayPal
PayPal is an online payment platform pioneer, founded back in 1998. It operates in 200 countries supporting 26 different currencies. PayPal is the most popular method for freelancers to get paid and to withdraw money on Fiverr and Freelancer.com.
It is easy to use: no need to have an account to send money, just an email address. It has a high level of confidentiality: personal information specification is not required (bank account number, billing address or even name). It takes minutes for the transaction to be processed. PayPal has a high level of trust, as it has great buyer protection policies. But mind that bank transfers can take about 1 day and 3-6 days for eChecks.
But PayPal is pricey. Depending on the region, fees vary from 2.4% + fixed fee around $0.30 in the US, up to 4.4% for each non-US transaction + fixed fee. Additionally, there is an exchange rate fee 2.5% – 4.5%(depending on the currency type). The main downside to using the PayPal platform includes risk for merchants and freelancers. PayPal gives buyers 180 days for disputing a transaction. So, if you are working with a new or not quite a reliable customer there is a possibility to lose your funds. PayPal doesn't provide digital goods protection. It can also put your account on hold for up to 21 days (e.g., you didn't use it for a while, have a new account, disputes etc.). PayPal can also freeze your account without any notice(e.g., for digital nomads getting transactions from different countries).
Despite all the advantages, you become very dependent on PayPal. There is a risk of limited control over your funds.
Google Pay
G Pay (previously Android Pay, Google Pay Send and Google Wallet) is a convenient digital wallet platform and an online payment system. It is available in 39 countries worldwide and in 10+ currencies. It is integrated with other Google services. G Pay offers zero fee for sending and receiving money for debit cards and bank transfers (either from a mobile or desktop device). After creating an account, you can receive money for freelance work. Your customers can make money transfers by specifying your email or mobile number. Requesting a link, you can claim your money through SMS.
But, for credit cards there is a 2.9% fee. Another disadvantage of this platform is also that it has a limited list of online payment partners. Processing time can take up to 10 business days, so get ready. If you need to get your money very quickly then this payment method for freelancers is probably a bit compromising.
Escrow
Escrow is available in most countries, except for a few. It is one of the best ways to get paid as a freelancer as it primarily protects the interests of the recipient. It has a "hold funds" algorithm: a customer deposits the payment and only then a contractor begins to work on a project. This is a guarantee and bilateral responsibility. You get your funds when your client is satisfied with the work / service you've done.
Processing time: after 10 business days (checks and money orders approval). Everything seems to be almost perfect but for one slight detail – fees. 3.25% ($10 minimum) up to $5,000 amounts, or 6.5% ($100 minimum) + 3.05%; $162.50 + 0.26% for $5,000.01-$25,000 or 0$325 + 0.52% for payments over $5,000; for transactions higher than $25,000 – 0.89% or 1.78%. The fee can be split between the customer and the freelancer.
Only 4 currencies are available: USD, EUR, GBP and AUD. USD only for credit cards and PayPal.
Stripe
Stripe is a relatively new online payment processing system. Its main function is more about receiving funds than money transfers. It has a two-day rolling payout. That means you can get paid daily with a 2 days delay for completed work, but only in the U.S. and Australia. It is available only in 25+ countries, but payments can be accepted from all over the globe.
The commission is 2.9% + $0.30 flat fee per transaction if your business is under $1 million annual turnover. Stripe also charges 1% for currency conversion. It has no limits for funds withdrawing, even $1 (except for several countries). If there is a dispute between a client and a freelancer, a $15 fine will be charged. If you win, $15 will be refunded to you. If you lose, you pay a $15 fee, refund the client, and even the Stripe transaction commission.
As Stripe is a young startup, this platform has not earned the necessary level of trust yet. Maybe it is not the best payment method for freelancers with such strict rules.
Skrill
Skrill (Moneybookers) is sometimes called a low-cost payment processor. Originally it was used in online gaming and betting. It is available almost globally, except for a handful of countries. Transfers can be done in 15+ currencies.
Senders pay nothing for the transaction, mostly all expenses are at freelancers' cost, depending on the country. Transaction processing time is 3-4 days. The transfer must be approved by the Skrill review team (up to 3 days). The funds will then arrive within one more day. The fee is 9%, but no more than €20 per each payment. On top of this, there is a 3.99% currency conversion commission. Skrill has an improved fraud management.
Transfer limit varies from $135 and $25,000 monthly (depends on your account verification). Email transactions can also be done.
Cash App
Cash App (known also as Square Cash, and Square Cash App) is a mobile application for freelancers to accept payments. It has a really short transaction processing time, compared to other platforms. Payment methods are a debit Visa card or a bank transfer. Processing time is only 1-3 business days with no fee, or 1% commission for immediate "Cash out" transfer.
But Cash App is available in a limited list of countries: US, United Kingdom, Canada, Australia, and Japan. That's the main difficulty and inconvenience. Every account is country-bound, you can create an account only in the country you live in. E.g., if you don't live in Canada and don't have a Canadian account you won't be able to accept money from Canada. Also, the account determines the currency of the country you are linked to. Cash App has an advanced fraud detection instrument. Bitcoin trading is available.
Wire Transfers
It is a service to move funds directly from one bank account into another. It is a type of EFT. These payments are quite fast (2-5 business days), domestically it can even take a few hours. They are undoubtedly safe as banks treat them as a digital cashier's check.
Wire transfers are available worldwide, but service fees are on the higher side, and they tend to get rather expensive. It is not economically viable to use Wire for small projects. Fees are too high for less than $500 transfer.
Also wire transfers are irrevocable. It can be an obstacle for clients as they cannot recourse money. And what if a freelancer doesn't finish his scope of work?
Moneygram and Western Union
Both are money transfer companies available worldwide (Western Union: 200+ countries, Moneygram: 200+ countries). Currencies available: 140+ in Western Union, 45+ currencies in Moneygram. Moneygram is faster: up to 24 hours for processing time. It takes 2-5 business days for a Western Union transaction. Both services are reliable and secure.
Both transfer companies' fees depend on the country, amount, and payment method. The lowest for cash, higher for online bank account transactions, the highest for a debit or credit card. They also have transfer limits. Moneygram's exchange rates make this payment method a bit less favorable. If you need a moderate amount of cash these 2 options are perhaps the best freelance payment methods.
Wise (former Transferwise)
Its advantage is a comparatively low fee that depends on payment amounts, country, and currency. Funds travel between Wise accounts. That's why there are no border-crossing fees. Wise operates globally, 20+ currencies are available. But the catch is in the obligatory currency exchange process. You cannot send and receive the same currency.
Payment methods, as well as transfer limits, also depend on amounts, country, and currency. So, it is better to check the local page to understand clearly. Visa, MasterCard, bank transfers are available.
Payoneer
Freelancers use it to withdraw funds and deposit them in local bank accounts. Payoneer can be called PayPal's twin brother and it is often used as an alternative. Its main downside is also rather high fees. It charges $15 for a USD SWIFT payment. A freelancer will have to pay a 3% fee for credit card transactions from the client. Another currency account withdrawal will cost you 2% of the amount. Processing time is 3-5 business days. It gives options of integrated payments, single and mass payout.
Payoneer is global (200+ countries), available in 150+ currencies.
Revolut
It is a democratic payment system with a good interface. It is mostly used for buying goods, services, and online payment. After account registration you can have a prepaid debit card or a virtual one. Processing time takes minutes. You can choose a free account or a paid one (Premium for $6.99/month, Metal for $12.99).
An additional convenience is that the account can be funded via bank transfer, standard credit, or debit cards, Apple Pay and Google Pay. There are no fees for transfers in the same currency, mid-market exchange rates. Cryptocurrency trading is available.
But according to reviews Revolut has poor customer support. Your account can be frozen without warning for security reasons.
Credit Cards
Some clients or freelancers still choose credit cards as a payment method. Transfers are made via service providers or additional apps. The disadvantage is that high commissions, hidden or unexpected charges can be present. This freelancer payment method isn't usually used for overseas payments.
Electronic Funds Transfer
EFT is transferring money directly from one bank account to another. No apps or credit card processing companies involved. It is easy, fast, and inexpensive. Processing time takes 2-4 business days. Downsides of EFT are number of transactions and maximum amount limitations. Also hidden charges can occur.
Accounting Software
Accounting software is not a payment method but can be a great tool to automate and manage all funds transactions. This will allow a freelancer to organize cash flow, create and monitor invoices issued and payments to be made, notify clients about overdue payments, send reminders. Especially, if several projects are in progress at the same time. Here are some of the best created with freelancers in mind: Quickbooks, Bonsai, Zipbooks, Freshbooks.
Comparison table of payment solutions for freelancers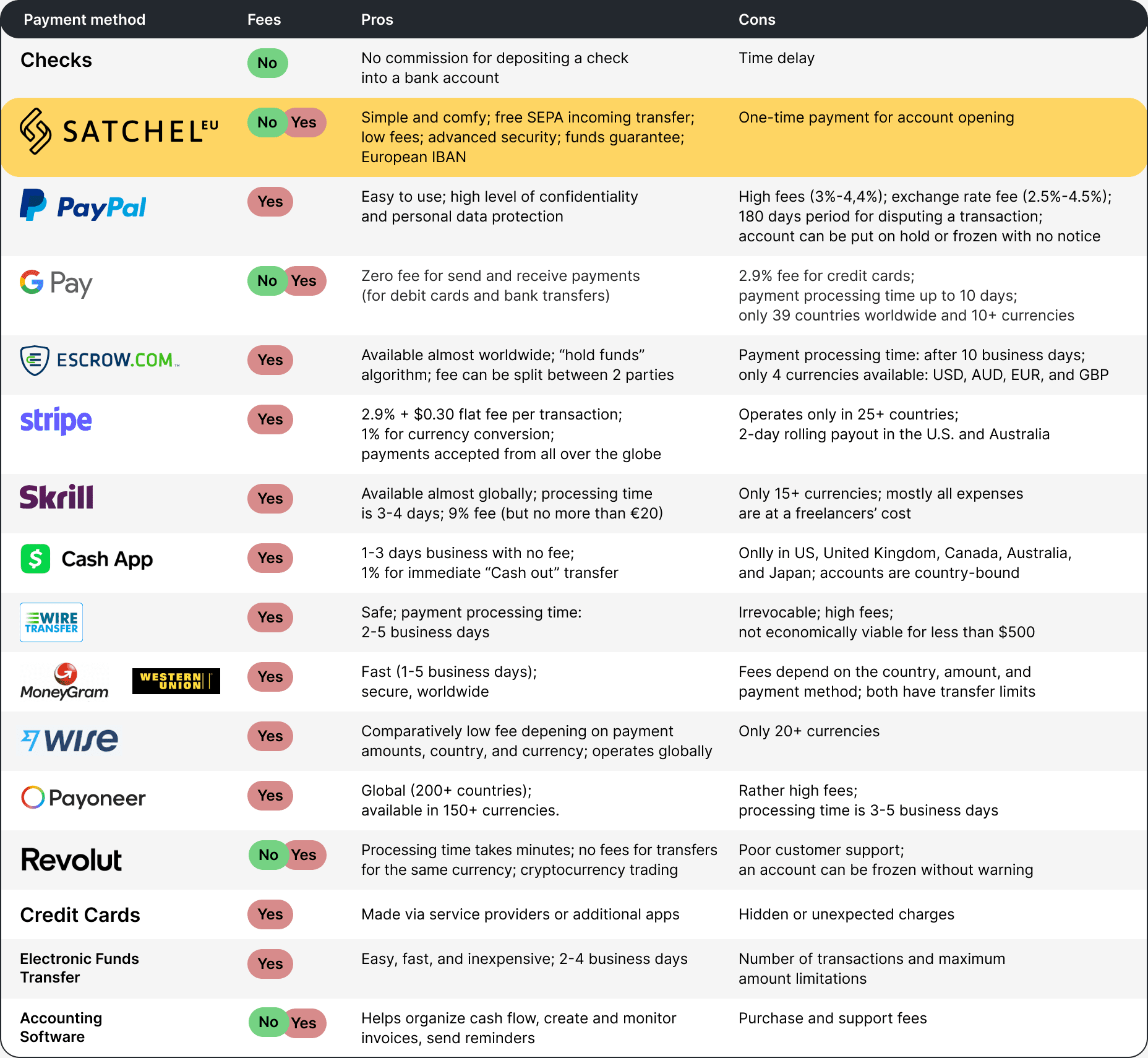 Tips for Getting Paid as a Freelancer
All payment methods for freelancers have weaknesses and strengths. To choose the best platform for freelancers, you need to set your own priorities first. Rank the most necessary for you: safety and reliability, fees, processing time, possibility to accept payments internationally, supported currencies and convenience. Then just view the summary table!
If you have several simultaneous projects, depending on the region or payment currency, you can choose several platforms to meet your needs. If you are more conservative, find a compromise solution.