What Different Types of Bank Cards Exist in Banking?
Since they appeared and became widely accessible, bank cards have truly reshaped the way people in Europe and around the world pay and shop. They are an easy and versatile tool and have a number of advantages over cash and other payment methods. But how many types of bank cards are there?
From debit to credit and from plastic to virtual, there's a variety of cards that were created to accommodate different customer needs and preferences. Without relevant knowledge, it can be challenging to differentiate the cards and use them appropriately.
We have created a quick guide that will give you all the essential information and insights about the basic types of cards, how they compare against each other, and which one is the right choice for you.
Types of card
Virtual cards
Virtual cards are non-physical payment instruments that were created to make purchases more secure, replacing cash and physical cards. But how are virtual cards different from the latter? They have the same attributes as a regular plastic card, such as a card number, an expiration date, and a CVV code, but only exist in the virtual space.
Today, most providers offer both single- and multi-use virtual cards, which are a convenient tool that make both business and private transactions more secure. This type of cards is the most eco friendly. It can be used as a secure payment instrument. One can generate one-time virtual cards for online purchases.
Prepaid cards
If you do not like to carry cash around, prepaid cards are just the right tool for you. They are quite similar to debit and credit cards but have one big advantage – you don't need a bank account to get a prepaid card. You can simply load money to the card whenever you need to use it to make both online and in-store purchases.
As a business owner, you can use pre-loaded cards to manage the corporate expenses of your staff in a simple way. If you travel a lot, you can get a prepaid card in the currency of your destination and forget about all the headache that comes with currency exchange. Keep in mind that the fee schedule for this card type is slightly different from that of credit & debit cards, so make sure you're familiar with all nuances before getting one.
Debit cards
One of the most popular types of payment cards, debit cards, such as Mastercard, Visa, and Maestro, are linked to a user's bank account from which money is debited immediately after payment is made. This card has all the essential features that will satisfy the needs of a regular spender. Whether you prefer to withdraw funds and pay in cash or by POS, contactless, or via a digital wallet – a debit card allows you to do all of that in a fast and seamless way.
Credit cards
Credit cards share many of the same features as debit cards and can boast the same level of popularity as the latter. Yet, there is a key difference: with a credit card, you can also borrow money from the bank to make a purchase and pay back the funds at a later date. All credit cards have a credit limit established by the provider. This establishes the amount that you are allowed to spend and then pay back along with an interest fee. There are also certain providers that allow you to pay back interest-free within an established period.
Credit cards are a great option for high-spending users, but they also come with a risk of struggling to repay the debt, if exaggerated.
Among the major credit card providers are Mastercard, Visa, and American Express.
Charge cards
American Express is the main provider of charge cards, which have a certain degree of similarity with credit cards but are also quite different. This tool allows you to pay with credit (money that you're borrowing from the bank) but you are obliged to pay back the full amount each month and do not have the option to shift the balance over to the following month. However, there is no fixed spending limit or interest rate imposed, as long as you comply with your responsibility to pay back on time.
This type of card is not as popular as prepaid, debit or credit cards and, therefore, charge cards are not accepted everywhere. So, before you intend to make a purchase, make sure to check and confirm that the vendor accepts payments with charge cards.
Business travel cards
Business travel cards are a convenient option for frequent business travelers and spenders, as they offer great benefits like cash back, airline miles, hotel discounts, and other perks. These cards are attached to a bank account, just like credit or debit cards, and allow companies to monitor spending, simplify expense reports, and build business credit for loans.
American Express is the most common provider of business travel cards and offers customized solutions with interest rates and fees that fit customer needs.
Purchasing cards
Also known as "P-cards", purchasing cards are issued by companies and are most often used by employees to make purchases on behalf of their business. Purchasing cards help streamline low-value item purchases and minimize the need for approvals and paperwork. Besides, they also consolidate all purchases into a single account, which simplifies corporate accounting processes. As a bonus, companies also get an insight into spending patterns and can manage their policies and budget decisions accordingly.
Gift cards
Gift cards are non-reloadable prepaid cards that typically also have a shorter expiration date. Originally, gift cards were closed-loop, which means that they could only be used in the specific store locations where they were issued. However, this is no longer the case, as major card issuers, such as American Express, Mastercard, and Visa now offer gift cards that can be used anywhere and are known as open-loop cards.
Forex cards
Foreign exchange cards are a convenient tool used by international travelers to hold multiple currencies. There are both single- and multi-currency forex cards, which can be used to make payments or withdraw cash in ATMs around the world.
Which card suits you best?
When choosing the card that best fits you it is important to evaluate a variety of factors, such as your spending pattern, how frequently you travel abroad, whether you are a business owner, and more. Before making a decision, create and fill out a table with the features that you're looking for and the available card options (see the example below). This will make the evaluation process faster and simpler.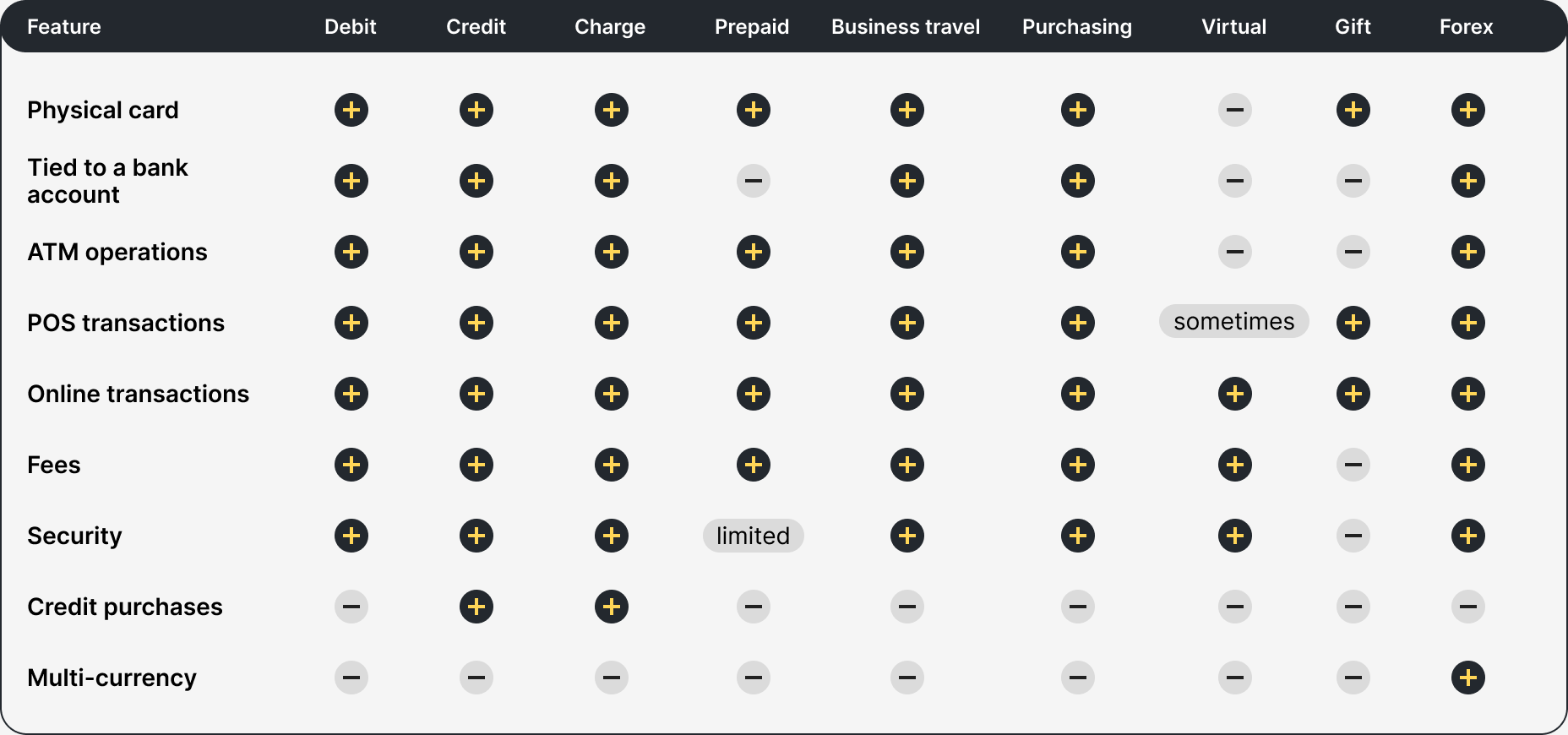 Get a card that you will love with Satchel
Satchel is a leading European EMI, with HQ in Lithuania, performing international money transfers, fintech consulting, currency exchange, BaaS, SaaS, and card services since 2018.
With Satchel, you can open a business, personal, freelancer, or merchant account remotely, providing only basic documentation. Any Satchel account holder can order one or more Mastercard payment cards. The Satchel card is a go-to tool for people and businesses that manage several transactions and payments on a regular basis. You can choose the tariff that best suits your spending pattern and manage your card directly from the Satchel app. Use it anywhere and anytime for a fast, simple, and smooth payment experience. Here are some benefits:
Physical and visual Mastercard cards
Personalized tariffs with no hidden fees
Contactless feature
3D Secure for safe online purchases
Two-factor authentication (2FA)
Customer support via phone & chat
Sleek design